Thank you for contacting Cardinal Roofing, a representative will contact you shortly.
About Us
---
We pride ourselves on long-term relationships with our customers and work hard to ensure that every customer is treated with respect and in the most professional manner. Cardinal Roofing is "Where Our People Make the Difference".
Service You Can Trust
Cardinal Roofing strives to provide solutions to your commercial roofing problems and services for all your roofing needs. We believe that "Our People Make the Difference" on all our roofing projects and most importantly, on your roof.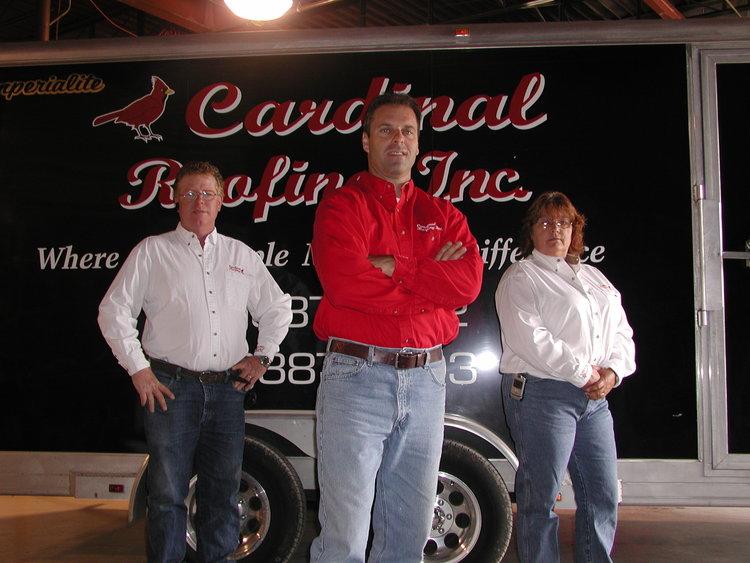 Ed Phillips
President
Has over 20 years of experience in the roofing industry, including seven years working in Quality Assurance with a roofing manufacturer.
Shelly Phillips
Chief Financial Officer (not pictured)
Is a CPA and has 20 years of experience in public and private accounting, including over 10 years working with construction industry clients.
Georgia Powell
Commercial Roofing Project Manager
Has over 30 years of experience in commercial roofing.
David Cheek
Sheet Metal Project Manager
Has over 25 years of experience in commercial custom and architectural sheet metal roofing.
Excellent Value
Cardinal Roofing strives to provide unique benefits to our customers by providing the highest standard of roofing with excellent service and a fair price
We are an authorized contractor for Duro-Last Roofing, Firestone Roofing, Versico Corporation, and IB Roof Systems
We are an authorized installer for Firestone Metal Products, Berridge Manufacturing, Dri-Design, MBCI, and Universe Corporation to fabricate and/or install custom sheet metal and wall panel systems
Our foremen and installers are trained in the best and latest roofing and sheet metal techniques for all the systems we offer
Superior Protection For Your Business
We can offer up to 25-year manufacturer's warranties for all our roofing systems
We provide a minimum 2-year contractor's workmanship warranty on all new construction,
re-roofs, restorations, repairs, and custom sheet metal projects
We make safety a priority and have a Drug Free Workplace policy
We are fully licensed, insured, and bonded
We have a long list of customer, vendor, and supplier references
No-Obligation Inspection
Get a FREE Estimate Today!
Schedule an inspection today and get a free, no-obligation estimate. Trust us with your next project and contact us today, and we'll get back to you as soon as possible so we can get started!